Arkansas in the fall is a dream for nature lovers! The Ozark National Forest takes center stage, transforming its canopies into an umbrella of reds, oranges, and yellows, providing a scenic backdrop for hiking or a fall road trip. Summer in Arkansas is brutal, and unless you're spending your time on the lake, you're probably spending it directly under the AC. In late fall, the temps begin to fall, and for a few glorious weeks, locals hit the trails, road trip through the Ozark Mountains, and spend Saturday pumpkin picking with the kiddos. From ale trails to Friday night lights, corn mazes to haunted hotels, there's no better place to spend your getaway than Arkansas in the fall!
When is the best time for a road trip through Arkansas?
Being in the South, fall color change begins late here. While the tippy top Northwest corner may see some fall color by late September, most of Arkansas doesn't see peak color until October. The forests of Northwest Arkansas turn first, and the trees of the Ouachita National Forest follow in early November. Fall weather can be fickle in Arkansas, fluctuating from quite warm to chilly evenings and some rainfall. Be sure to consider the weather as part of your planning and packing. Of course, there is a saying among those who have lived in the state for a while: "If you don't like the weather, take a nap. When you wake up it will be different!" We recommend a hammock nap in the fall!
Fall Color Map Arkansas
For a basic look at the fall foliage in Arkansas and what you can expect for timing, here's a handy fall foliage color map to help with your planning!
Hiking Arkansas in the Fall: 5 Best Arkansas State Parks for Fall Foliage (and Some Extra Fun Tidbits)
In this section, we'll hook you up with some of our favorite spots to experience Arkansas in the fall. We've gathered the best and most beautiful state parks for hiking, but you'll also find tips on fabulous Airbnbs, pumpkin patches to visit, and Arkansas fall festivals to attend!
1. Hiking Arkansas in Fall: Petit Jean State Park
For an enchanting fall experience, Petit Jean State Park offers beautiful waterfalls, hiking trails, and fall foliage. Located just outside the city of Morrilton, this historic state park has been around since the 1930s and is a certified Trail of Tears National Historic Trail Site. Petit Jean is a local favorite in Central Arkansas. The view from the lodge is epic, overlooking the deciduous forests of the Ozarks. Take a few minutes to enjoy before hitting the waterfall trail. Trails range up to eight miles in length for more experienced hikers, but there are several shorter ones in the park for newbies. The park also offers historic markers to explore, paddleboats on the lake, and much more!
The Ideal Airbnb
Need a place to stay the night? Vulture Peak Guest House (pictured above) is near Petit Jean State Park and boasts an incredible view from its wrap-around porch!
Things to Do Near Petit Jean State Park
Pumpkin Picking
Aside from some of the best hiking in Arkansas, Petit Jean is just an hour from Quitman and the most amazing pumpkin patch in Arkansas: The Arkansas Frontier! From covered wagon rides to an Indian village, and a pick-your-own pumpkin patch, Arkansas Frontier has everything you need for a fun and educational fall day!
Post Winery
One thing I love about this state park is its proximity to some of the best wineries in the state. Right down the way in Altus, Arkansas, is the Post Winery, one of the oldest and best in Arkansas. There's no better way to celebrate after a challenging day hike!
An Extra Perk: Mount Magazine
If you still haven't had enough of the beauty of Arkansas, you're in luck! Less than an hour from Petit Jean, Mount Magazine is Arkansas's highest point, and the park has some truly beautiful hiking trails to explore. There's also camping with lake views at the gorgeous Cove Lake Recreation Area nearby. While the trails at Mount Magazine don't have the sweeping views of some of the other spots in Arkansas, they are perfect for watching the changing leaves, as most are heavily forested.
2. Hiking Arkansas in Fall: Ouachita National Forest
The Ouachita National Forest offers some of the best hiking near Hot Springs, Arkansas. If you've never visited Arkansas, Hot Springs is a must-stop spot! The historic town boasts the best restaurants in the state, stunning old hotels and Victorian guesthouses, the iconic Bathhouse Row, and glorious hiking trails. The trail pictured above is called the Winding Stairs Trail and shows off the beauty of the area as well as any. This trail is approximately two miles long and is perfect for novice hikers. If you're up for a real challenge, there is the Lake Ouachita Vista trail! With 35.8 miles, this hike will take up your weekend, so pack everything you need for a rustic camping experience. Vista Trail aside, most hikes in the national park are rated easy to moderate and are ideal for walking off your burger from The Ohio Club!
Where to Stay
Hot Springs is about the bathhouse experience. Settle in a historic room in the Arlington Hotel & Spa or up the ante and stay in one of the luxury suites in the newly remodeled Hale Bathhouse. There are also amazing private Airbnbs in town, most located in historic Victorian mansions.
Things to Do in Hot Springs
After a long hike, take to the waters with a traditional 1920s bathhouse experience at The Buckstaff. Explore the culture and history of 1920s Hot Springs in the Fordyce Bathhouse. This fully renovated beauty now serves as the visitor center and museum for Hot Springs National Park. Spend a day betting at Oaklawn Racing Casino Resort, or pop into The Copper Penny for a fun Irish pub experience! If changing colors is a must for you, check out the fall garden at Garvin Woodland Gardens!
3. Hiking Arkansas in Fall: Lake Catherine State Park
Lake Catherine is one of the prettiest state parks and another great spot for hiking near Hot Springs, Arkansas. The park is absolutely breathtaking and will have you seriously debating a permanent move to the Natural State. Another excellent place to see fall foliage in Arkansas, the color change in this area usually begins in late October or early November. It's not unusual to see warmer temperatures linger deep into the color change season. Fun activities in the park include children's playgrounds, fishing, and a full-service marina with snacks and drinks. Lake Catherine is one of the less-crowded spots to experience Arkansas in the fall!
Where to Stay
Stay right in the park by renting one of their adorable cabins! The park has 20 fully-equipped cabins and more than 70 tent and RV camping sites. A rustic cabin in the woods is just about one of the most cozy fall getaways we can imagine!
Things to Do Near Lake Catherine
If your feet get a little tired, horseback riding is a popular pastime around Lake Catherine in the fall! For only $50 a person, you can make a reservation to take a trot around this absolutely stunning state park. I can't imagine a cooler picture to add to your living room wall.
If you want to make this a family trip, hit up some great pumpkin patches in Central Arkansas for festive fall adventures! Roseberry Farms Pumpkin Patch in Benton, AR is an excellent option. With giant slides, a petting farm, and a rope maze, Roseberry is a spot the whole family will love!
4. Hiking Northwest Arkansas in Fall: Devil's Den State Park
Devil's Den State Park is still one of my favorite Arkansas state parks because of its easy access and beauty. You cannot beat the fall color while driving up the winding mountain roads to the park, nor the peacefulness of the caves and changing leaves. The epic caves of the park have been closed for many years, due to a fungus that was endangering the bat species. Hopefully, in a few years, we can go back to exploring them, but for now, you'll just have to enjoy the gorgeous trails. The most popular hiking trail in the park is the Yellow Rock Trail, which leads to a slightly dangerous but extraordinary rock overlook. The hike is achievable by most levels of hikers. Just mind the edge, and enjoy the view from a safe distance!
The Extras!
Devil's Den State Park is only a forty-minute drive from the beautiful college town of the University of Arkansas in Fayetteville, also known as Razorback Nation! Woooo, Pig Sooie! Come join us in the sea of red for a day of pigskin!
If you're a motorcycle enthusiast or want to see one of the biggest motorcycle rallies in the country, come at the end of September during Bikes, Blues, and BBQ! It's one of the largest fall Arkansas fall festivals, and it's like no other! Book your stay quickly because the thirty thousand-plus visitors will be snatching those hotels soon!
5. Hiking Northwest Arkansas in Fall: Pea Ridge National Military Park
This park is one I have been to MANY times, and it never ceases to amaze me with the beauty of its landscape. No formal fall foliage tours needed. Just take a walk through the woods on the only unchanged portion of the Trail of Tears, or stop off at the mountain overlooks to see the sweeping vista views. Not only is this Arkansas military park filled with gorgeous hiking trails, but there are several Civil War historic structures in the park as well. Some of it may even be a bit spooky! Which is fitting for the fall season.
We love the Pea Ridge National Military Battlefield Loop. While it is long, at 6.5 miles or so, it traverses the best portions of the park. Just follow the cannons. It's good to mention that this is more of a walk than a hike. Unless you veer off on the horse trail, you'll be walking along the asphalt. It's a more popular route for bikers and horseback riders than for hikers, but it's a lovely spot to see the enchanting fall colors of Northwest Arkansas. Remember, color change begins earlier in this part of the state, and you may be able to see fall color by late September!
Where to Stay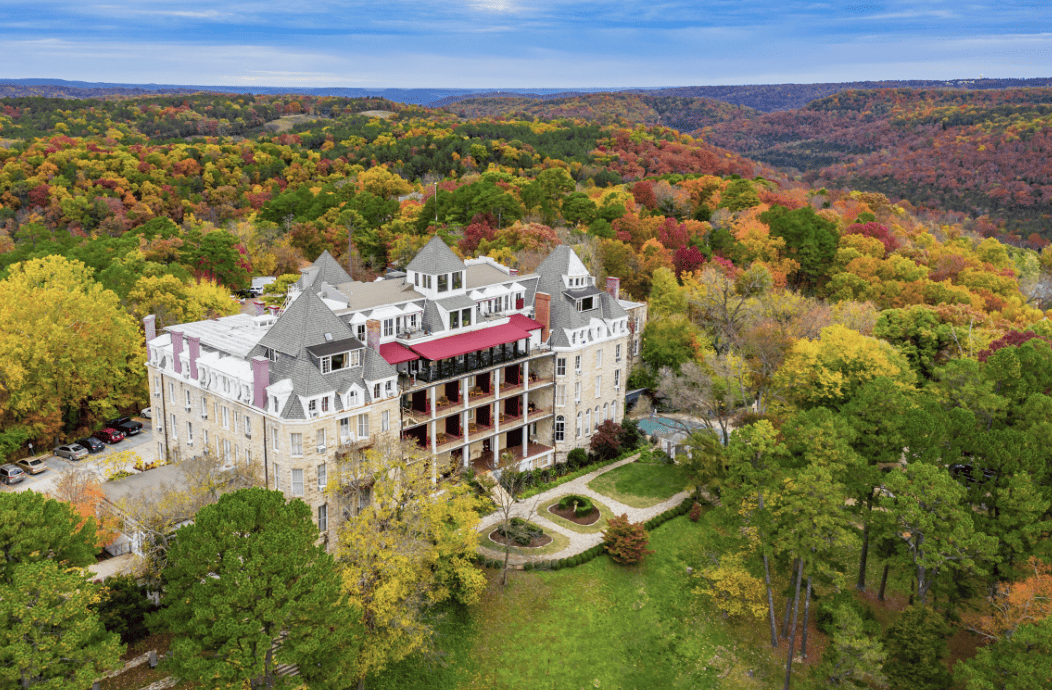 One thing I love about Pea Ridge is that the awesome and funky town of Eureka Springs is only thirty minutes away. This town features one of the country's most haunted hotels: The 1886 Crescent Hotel & Spa. They offer nightly ghost tours! Not to mention, the fall foliage in Arkansas is at its best in the Ozarks, which Eureka is smack in the middle of! It's a quirky little town with tons of unique attractions, boutique shopping, and Victorian architecture. It also boasts the romantic Thorncrown Chapel, a stunning glass church in the heart of the woods.
Pumpkin Picking
Want something extra to do on your weekend besides ghost tours and walking through military parks? McGarrah Farms is another great pumpkin patch in Arkansas! It has been around since the late 1800s and is a family staple in this part of the state. Old Farmer McGarrah still gives tours of his pumpkin patch, even though his children and grandchildren mostly run the farm now. Their family-friendly establishment boasts a corn maze, ziplines, carnival games, and much more. It's a truly great pumpkin patch and the perfect place to spend an Arkansas fall day!
Arkansas Fall Festivals
One of the best Arkansas fall festivals takes place in Eureka Springs as well. The Hillberry Harvest Moon Festival is a Bluegrass and Funk festival taking place from October 4-8, 2023. Come join us for a weekend of live music in a seriously stunning setting!
A Road Trip Through Arkansas in the Fall: Boston Mountains Scenic Loop
Arkansas is magical on foot, but if you can't (or don't want to) take on the trails, you can enjoy the beauty of the open road from the comfort of your cruiser. This beautiful scenic byway through the Boston Mountains looks like something straight out of the movies. It's one of the most majestic portions of any road trip through Arkansas and is definitely one of the best fall foliage tours.
Beginning in the beautiful town of Alma, the loop heads north through the high points of the Ozark National Forest. Traversing Hwy 71 North, you'll explore some of the cutest small towns in Arkansas and visit the fun university town of Fayetteville. Check out the world-class Crystal Bridges Museum of American Art, or get your fill of the local brew on the Fayetteville Ale Trail! You'll explore 23 different craft brew establishments, filling your ale trail passport, which makes a fun vacation memento!
Either head back the way you came, or take I-40 back south to complete the loop. For a more scenic (and winding) route, you could take Hwy 16/295 to Hwy 23, and follow the old "Pig Trail" back to Alma.
Where to Stay
If you want to make this a weekend getaway, book a stay at the Inn at Carnell Hall, located on the University of Arkansas Campus. This is one of Arkansas's most beautiful places for fall foliage. Plus, the gourmet restaurant in the inn is absolutely fantastic. This Northwest Arkansas staple has been around since 1905- a fine addition to your scenic byway trip.
Final Thoughts on Visiting Arkansas in the Fall
You truly cannot beat Arkansas in the fall! Whether you bring the kiddos and explore a southern pumpkin patch, or opt for an adult-only weekend experiencing the fall foliage in Arkansas, The Natural State is amazing in autumn! As far as cozy fall getaways go, there are no better spots than the funky town of Eureka Springs, the historic center of Hot Springs, or the lakeside campgrounds near Mount Magazine State Park. So, what are you waiting for? Pack your bags! There's no place like Arkansas in the fall!
For more leaf-peeping tips, check out our new article-"Explore the Best Fall Foliage in Arkansas!" We take you to all the hot spots in the Natural State and give you all the behind-the-scenes info you need to enjoy Arkansas in the fall!
Pumpkin patches are a quintessential way to experience Arkansas in the fall. We've discussed a few standouts in this article, but if you can't get enough of carnival games and corn mazes, fill your itinerary with pumpkin-picking spots from "Exploring the Best Pumpkin Patches in Arkansas for Families."
Happy Fall Ya'll!